CONTACT US
GAY KICKBALL USA BOARD MEMBERS 2019
Jonathan Melton
CEO
Stonewall Sports / Raleigh
Jonathan@GayKickballUSA.org

Jonathan was a founding board member of Stonewall Sports, Inc. and served as the Network Director until 2017. He co-founded Stonewall Sports Raleigh and helped launch several other Stonewall leagues throughout the country. Jonathan has also planned and managed many national kickball tournaments. Jonathan looks to bring his experience and knowledge to the role of CEO and is excited to help GKUSA grow in influence and membership.
Paul Johnson II
CFO
Stonewall Sports / DC
Paul@GayKickballUSA.org
Paul has spent the last 7 years as a leader within the Stonewall Sports universe. He has held many leadership positions and now acts as a member on the Board of Directors for Stonewall Sports, Inc.; as the Kickball Association representative.
Outside of sports, Paul serves on the board for the non-profit Party for a Purpose DC as its Social Media Manager. Aside from his volunteer efforts, he also serves as the Senior Manager, Operations & Finance for EveryoneOn; a national nonprofit working to end the digital divides in the U.S.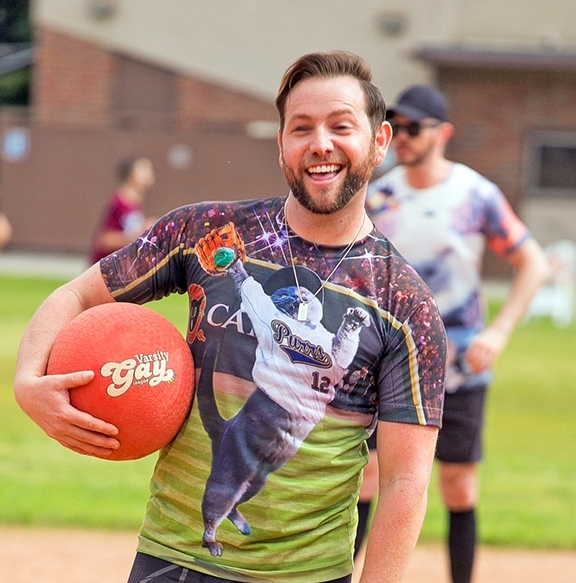 Will Hackner
Communications/Outreach Chair
Varsity Gay League
Will@GayKickballUSA.org

Will founded the Varsity Gay League, an LGBTQ+ allies recreational sports organization, in 2007. VGL's focus is growing queer relationships through sports and social events in 14 cities around the United States. Will started the Varsity Gay League / Sin City LGBT Kickball Tournament in 2013, the world's largest LGBT+ Kickball event, as we well as the VGL Sports Festival in 2015.

Will was awarded the Los Angeles Pride Heritage award by the City of Los Angeles, in 2018. He was also awarded the Community Hero Award by the Los Angeles Dodgers in 2018.
Michael Wellbrook
Secretary
Big Apple Sports / New York
Michael@GayKickballUSA.org

Michael has been playing kickball for the last 2 years. He started with the sport as a member of Stonewall Sports in Pittsburgh and then moved back to NYC, where he has been active with Big Apple Recreational Sports ever since. Michael is currently the director for one of the league's two days of kickball, and is working in his role to help expand the league and add another day of competitive kickball.
Off the field, Michael works in higher education at his Alma matter as a Community Coordinator for one of the institutions 1st year residence halls. Michael is an avid gamer, horror movie fan, and enjoys working out & staying
Kevin Jones
Events Chair
Varsity Gay League / San Francisco
Kevin@GayKickballUSA.org
Growing up playing competitive sports, Kevin is an avid fan of kickball and has been playing the sport as an adult for three years. He is the founder and general manager of the San Francisco city division of Varsity Gay League. Kevin has traveled to several cities for national and regional tournaments, including both the Sin City and Stonewall National tournaments. As the Events Chair, he is looking forward to help establish the annual World Kickball Tournament.
Outside of kickball, Kevin recently graduated from University of California, Berkeley School of Law and, in the fall of 2018, will be an incoming associate at a civil litigation firm in downtown San Francisco. He is very active in the queer legal community and serves as the New Lawyers Chair.
Derrick Lachney
Board Member
HotMess Sports / Nashville
Derrick@GayKickballUSA.org

Derrick started playing kickball back in 2009 when he moved to Washington DC and joined Stonewall Sports Season 1. After 3 years in DC and 4 seasons with Stonewall, he moved back home to Nashville TN and shortly after he created and founded HotMess Kickball Nashville.

The Nashville Pride Committee honored him with the "Rising Star" Award in 2016 for his work with HotMess. He continues to support and work along side many charity organizations that serve the Middle Tennessee area.